Wallace Roney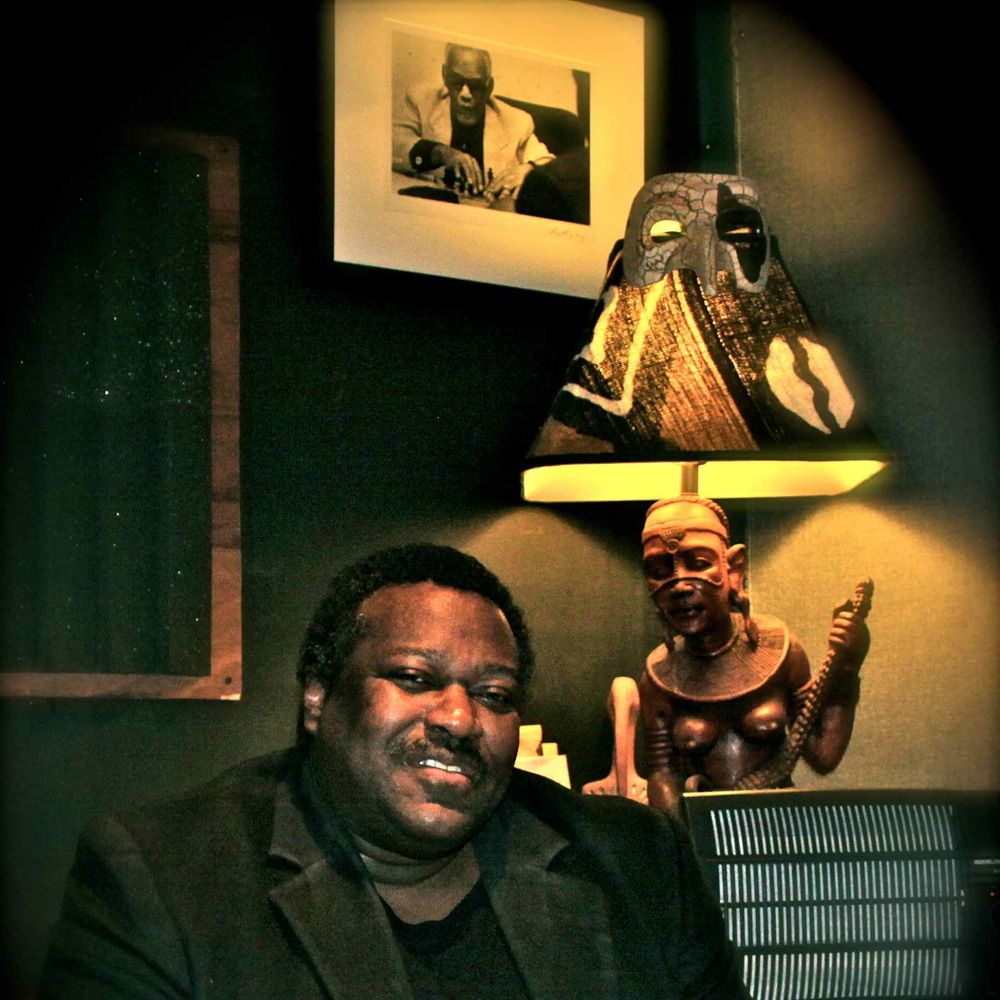 Wallace Roney
May 25, 1960 - March 31, 2020
Lost for words and blindsided by the news of his passing, I receded back into a deep meditation. I had plans for a Spring 2020 unveiling of my work with him; just one tune with a cluster of remixes; but a beginning I was positive would lead to greater things. Covid and the unraveling of circumstances none of us saw coming, claimed him, a few other musical greats and a good many folk who were loved and will also be sorely missed. This dark moment upon us has been overwhelming and can be debilitating, but there's a nature within some of us that forces one to seek light, "be it" and bring it if we can. Wallace was indeed such an individual. It's what drew me to his talent and an opportunity to help share it with the world.
Creating a tune for him is the best way I know how to assist, so I did, reached out and he was down with it. He came by for the session, lit into the track and I've been savoring "the glow" ever since. Selfishly. My apologies to all. I believe that's partly the "old school" DJ in me holding on to the exclusivity. But in reality, from experience I know, it's very easy for "quality" to get lost in the sauce of mediocrity, so I held off on releasing it into the "soup of the day"; consumed, discarded, most, forgotten! Yeah, I'll admit it's a personal thing. Audio Art is in "the ear" of the beholder. But I'm certain, most folks don't think about the music they hear and listen to today, as Art…I repeat, "most" folks! I'm reaching for "more folks" with this piece!
Come On Wid It, a song written for Wallace Roney, as I imagine you'll hear, is a grinding, trudge-like dance through an electric soundscape of hi rise buildings & Funky people; a "retro-futurist" composition, very much inspired by my Farragut Houses / Fort Greene Brooklyn upbringing. My earliest years, living adjacent to, exposed to daily, the sounds of a fully operational, ship building Naval Yard and a waterfront of factories in high gear: pumping, churning, clanging, fizzing, whistling and more, inform the industrial, tech-tonic, rhythmic bed & sweeping tones heard cascading throughout the production. Wallace's horn eases in & out of the flow like an "underground" dancer at a classic loft party from back in the day; emerging to tastefully and brilliantly "own" the spaces available to claim. Then laying back, riding while nudging the groove along, he gingerly caps the conclusion with a flurry and a sigh as if to say…this ain't really goodbye. See you in the next musical incarnation!
It's a jazzy tune. "Industrial Funk" may be a good description. Communal, group therapeutic, cardio-physically encouraging and family friendly are appropriate descriptions as well. 
WALLACE RONEY has left us with a pretty hefty catalog of beautiful music on Cd, available for streaming and classic performances videotaped during his lifetime. Please seek them out. Share the experience. Make them yours. You won't be disappointed. HIS LOVE is definitely in his work! May HE be "Jammin' In Peace" with all the other giants who've graced us throughout the years with the gift of their Love through their music! Thank you Wallace!
I'll be releasing remixes and re-imaginings of our session together throughout Summer 2020 as a reminder to you and a "spice" to the season.  Culminating in a collection entitled "An Audio portrait of Wallace Roney", I'll be seeking out and reaching out to musicians and artists to "co-feature" in further productions along the way. Stay tuned. Please stay in touch. It'll be what it's supposed to BE…No doubt…Always Love!
- Strafe